Access Seasoned Expertise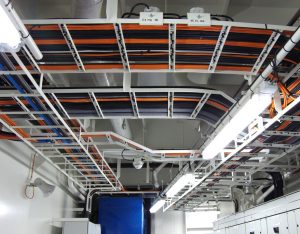 As you decide who to hire for your next electrical project, your first concerns may be where to locate bulky electrical switch gear or how to choose lighting fixtures that meet code requirements and lend appeal to your finished space. We understand and we can help. We've solved many design puzzles over the years and Electrical Services are at the core of what we do best. Our electrical engineers are certified or licensed either as P.E., E.I., LEED AP or a combination of the three. They stay informed and on top of the latest developments in the field through active participation in a variety of professional organizations.
Benefit from Trusted Relationships
Our engineers design for diverse projects and clients. Each of our engineers is given the opportunity to lead projects and be a core team member. Working on many types of tasks in a variety of capacities helps each team member to build a deep knowledge base. They learn how to design flexible solutions that work for the present and the future. So, they can help you strike just the right balance between performance and cost. Our teams can provide you with assessments, recommend alternatives and work with you to design high-functioning systems to fit your specific needs.
Computer Room UPS Design and Specification
Fire Alarm Design and Layout
Generator Design and Specification
Industrial Process Infrastructure Design
Interior and Exterior Lighting Design
Medical Office Building Design
Medical Imaging Equipment Infrastructure design
Office and Warehouse Design
Office Core and Shell Design
Office Tenant Finish Design
Recreation Center Design
Retail Big Box Design
School PA Systems Design
Security System Infrastructure Design
Telecommunication Infrastructure Design
Daylighting
Interior Lighting Design and Exterior Lighting Design
Site Photometric Analysis
Electrical Service One-Line Diagrams
30 Day Metering Analysis and Load Verification