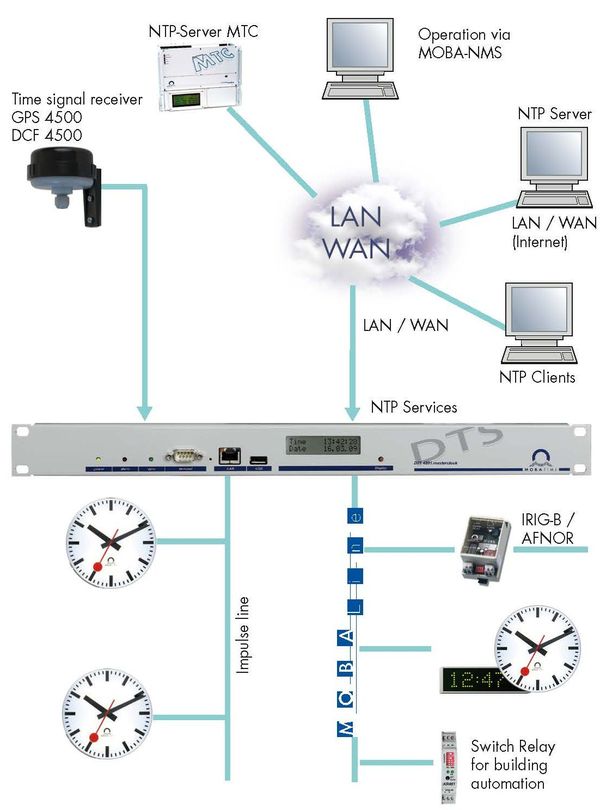 Master clock systems are used in a wide variety of applications and industries including aerospace and defense, broadcast, radio, and telecom, network systems, financial services, emergency operations and call centers, and healthcare — essentially anywhere reliability of data and signals are paramount.
Network master clocks distribute their timing references over local or wide area networks. There are also highly accurate master clock solutions that utilize copper or fiber connections for signal distribution of precise analog and digital signals such as IRIG, HaveQuick , and STANAG timecodes.
Master clocks deliver precise signalling and Legally Traceable Time to all time-keeping functions in any network.
Digital broadcast systems rely on master clocks to ensure reliability of wireless transmissions by aligning frequency and time.
Commercial enterprises benefit synchronized network operations for records accuracy, troubleshooting, security, and to enable time-sensitive applications to the extremely high levels of accuracy.
HN 50
EuroTime Center ETC
Master Time Center MTC
CompuTime Center CTC
DTS 4801.masterclock
DTS 4802.masterclock
Analog Indoor Clocks
Analog Outdoor Clocks
Digital Indoor Clocks
Digital Outdoor Clocks
Facade Clocks
Floral Clocks
Grandmaster PRC / PRTC
Grandmaster
Timeserver
Eco-Timeserver
Network Masterclock
SAM / SEM 100 & CC
190 Series
NBU 190
GU 192
FU 192
QU 192
NU 90
NU 91
NU 90 SYN
SEI 40
SAM 40 / SEM 40
SAN 40 / SEN 40
DMU 140
DMU 160
DMU 350
MW-Series
Wireless Time Distribution
Clock Controllers - Clock Set
Boosters
Distributors
Audio-Clock (Speaking Clock)
Interfaces
Switch Relays & LAN Timer
PDC-ETC
Time Code Receivers
Software